For any industry that uses industrial boilers, boiler inspection is essential. Boilers often operate under extreme conditions of temperature and pressure due to which periodic inspection of boilers becomes necessary to avoid any damage. Without a proper inspection, a boiler is not only a hazard for a facility, but it has the potential to cause fatality and catastrophic failure. Boiler inspections help prevent catastrophic failures by identifying and rectifying those flaws so that boiler operations could become safe and secure.
Boilers are often inspected annually, in which they are inspected thoroughly from internal and external sides under no pressure conditions. These inspections are carried out as a part of preventive maintenance which is often performed during the period of the shutdown of a plant. Although, some organizations also require an additional exterior inspection halfway through the year.
According to studies, "Increasing the frequency of boiler checks can extend asset life and reduce greenhouse gas emissions, but businesses must measure these advantages against the expense of doing more inspections"
Pre-Requisites for Boiler Inspection 🔎
 Only well-trained and certified people should be hired for the inspection of boilers.
 The inspectors should be aware of the ASME standards of inspection and testing.
 Inspectors shall be aware of the safety protocols while inspecting the boilers.
 They shall be well equipped with the relevant testing, inspection, and safety equipment.
Safety equipment that shall be required for performing high-pressure boiler inspections includes:
A safety hat and safety glasses
Safety shoes
Gloves
Coveralls
Flashlight
Camera (with a securely closed battery compartment)
Inspection mirror
Magnet
Containers for storing deposits
A knife, screwdriver, or another scraping device
Any necessary atmospheric testing equipment
Any additional advanced testing equipment required
Preparation of Boiler for Inspection
To prepare a boiler for inspection, the owner should take the following steps, as required by the inspector:
Drain water and wash the boiler thoroughly.
Remove manhole and hand-hole plates, washout plugs, and inspection plugs in water column connections.
Cool and clean furnace and combustion chambers.
Remove grates from internally fired boilers.
Remove brickwork insulation to determine the condition of the boiler, headers, furnace, supports, and other parts.
Remove the pressure gauge.
Prevent steam or hot water leakage into the boiler by disconnecting the pipe or valve at a convenient point, or through any other means approved by the inspector.
Close, tag, and padlock non-return and steam stop valves before opening the manhole or hand-hole covers.
Open drain valves and/or cocks between the two valves.
Close, tag, and padlock blow-off valves after draining the boiler.
Disconnect blow-off lines between pressure parts and valves when possible.
Open all drains and vent lines.
Following the Safety Protocols ⚠️
Inspectors should follow all plant safety protocols in addition to possessing the required safety equipment described above and preparing boilers for inspection. Other safety advice comprises:
 Examine together or with the assistance of an inspection attendant.
 Before the inspection, make sure that all valves, including the feedwater, chemical feed, blowdown, and steam valves, are locked out and turned off.
 To make sure the boiler is not excessively hot, measure the temperature of the naked metal.
 Use atmospheric monitoring tools to make sure the situation is not dangerous
Inspection of the Boiler includes:
Checking of Boiler controls including pressure gauges, low water cut-off devices, thermometers, temperature controls, gauge glass and pressure relief valve.
Checking the water and fuel internal and external piping conditions of the boiler to ensure it is in good condition and is as per ASME standards.
Flue gas pipe connections shall also be reviewed and inspected to ensure that the traces of carbon monoxide are being expelled properly.
Visual inspection to check the overheating, corrosion, and erosion on the internal and external walls of the boiler.
To visually inspect the burners within the boilers if they are receiving the correct ratio of fresh air for combustion.
Testing of all drains and blow-offs to ensure that they are functioning properly.
Check the fuel system for leaks and ensure that all fuel filters and strainers have been replaced.
Verifying that every shut-off valve is leak-proof and performing a leak tightness test if necessary.
Testing that each valve in the instrument line is operating properly.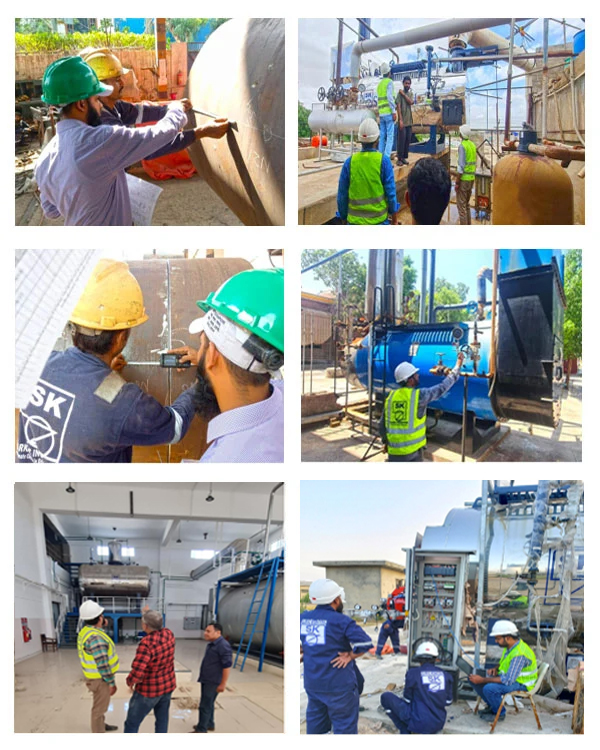 Checking the vent valve on gas-fired boilers is functioning properly and is not obstructed.
Checking that the flame scanner or sensors are correctly wired and operational.
Verifying all instruments and safety devices are in a proper setting.
Checking if the re-circulation pump operates adequately.
Checking that all heating system isolation valves are functioning properly.
Verifying that there are no leaks from any part of the boiler or piping external to the boiler. Have any cracked surfaces repaired immediately by a qualified repair company. Bulges or other deformities indicate defective controls, safety devices or improper burner operation.
Testing safety valves periodically. Replace leaking safety valves. Test safety or relief valves by lifting the test lever at least once a year.
Verify that the low water fuel cutoff control shuts off the fuel supply to the boiler as required. Inspect the low water fuel cutoff control for proper sequence and operation.
Checking if the isolation coating of the piping is not damaged at any point.
Inspectors should assess high-pressure boilers against all applicable regulations and standards, so the specific inspection steps may vary between locations subject to different regulatory guidelines.
Solarkaz International assists you with your boiler inspection needs. Solarkaz Boiler inspections are performed by Certified API inspectors. Our main concern is ensuring the quality of the boiler as per the latest ASME or relevant code of construction. At the time of performing inspections, Inspectors will examine your equipment and will identify the risks that the boiler may suffer. In addition, the inspector will review the existing condition of the boiler and will make recommendations to ensure that your high-pressure boilers continue to operate safely and comply with all necessary standards. Solarkaz also provide fabrication of Waste heat recovery boilers, Multi fuel fired boiler, Gas fired package type boiler, Wetback package type boiler, Solid Fuel Fired Boiler etc
Learn how to prepare your boiler for inspection and explore the different classifications of boilers based on their circulation mechanism. Solarkaz International provides valuable insights and expertise to ensure your boiler is in top condition and operates efficiently for a wide range of industrial applications.
Do you want to have inspection of your Boilers? Contact us to know more about the Boiler Inspection.