Certified Boiler Manufacturer
Solarkaz
 is a
certified
 manufacturer of Boilers, Pressure Vessels & Heat Exchangers. It has local licenses from the
Ministry of Industries
&
Ministry of Explosives
, and from International organizations like the
American Society of Mechanical Engineers (ASME)
, the
National Board of Boiler and Pressure vessel inspection (NBBI)
, the
American Welding Society (AWS)
and
ISO 9001, 14001, 45001
certifications. In Pakistan, it is the
only certified
Boiler Manufacturer complying with all the local and international requirements for the manufacturing of Boilers specifically Solid fuel fire boilers.
Beware of Unauthorized and Illegal Boiler Alteration Shops
Everyone must have the market knowledge of the local manufacturers to know why their fabricated Boilers are dangerous. Some of the reasons are given below:
No internal or external audits of their fabrication facilities.
Having no certifications from international organizations, hence they don't follow the safety fabrication protocols and standards.
Re-using the old material for Boiler fabrication is extremely dangerous for the facilities.
Mostly consuming the used pressure vessels and converting them into the Biomass boilers.
Not efficient fuel quality used for Biomass boilers. (Only conventional fuels e.g: wood logs that are hazardous for environment. etc.)
No warranties and aftersales services for boilers.
Benefits of Using Solarkaz Biomass Boiler Over Local Market Boilers
Using Solarkaz products has the following benefits:
Solarkaz is an internationally certified Boiler manufacturer, several International and Locals audits are being conducted within the fabrication facility to maintain the updated market standards.
Solarkaz only uses new and fully tested materials for the fabrication of our Biomass boilers. We also provide our customers with the respective MTCs of the fabrication material for their ready reference.
Our Biomass fuel is very efficient, cost-effective and environmentally friendly than the other conventional fuels in the market. Biomass fuel includes Biomass Pellet, wood, Waste Cloth, Rice Husk, Peanut Shell Bagasse, Bamboo Chip Mustard Stalk, Wood Chip, cotton seed, corn cob, Cotton Stalk, etc.
We provide a separate cyclone filter in our Biomass boiler design, which enables the system to filter exhaust gasses from the boiler by reducing SOX and NOX emissions, making it environment-friendly as per local & international standards.
Solarkaz also provides unmatched warranty for its Biomass Boiler.
Solarkaz Biomass boilers are up to 89% efficient. We claim that 310 Kg of our Biomass fuel can produce up to 1 ton of steam.
Solarkaz Solutions for Biomass Boiler
Our Business model for Biomass boilers is as follows: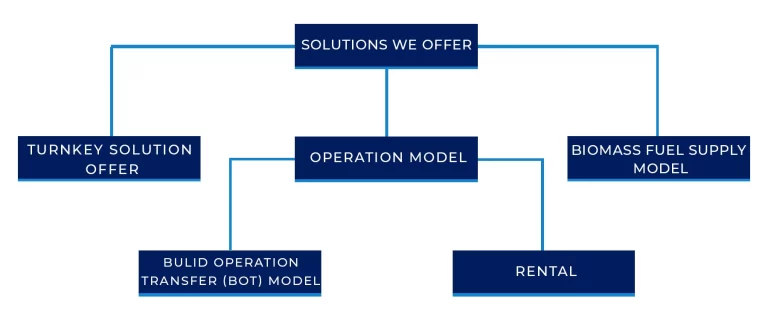 Turnkey solutions are solutions that are completely deployed in a business, effectively fulfilling the need of the client and the client can simply "turn the key" to get started.
Solarkaz provides Turnkey solutions for Biomass Boilers to our clients. 
Offerings In the turnkey solution model clients get the following benefits from Solarkaz:
✔️ Survey and feasibility visit of client site
✔️ Design & Fabrication of Bio-Mass (Boiler) Package.
✔️ Transportation and Installation of Bio-Mass (Boiler) Package to the site.
✔️ Training of the staff members for proper operation of the Bio-Mass (Boiler) Package.
Build Operate Transfer (BOT) Model:
BOT is a model that is a contractual relationship in which the client hires Solarkaz to fabricate, set up, optimize, and run Biomass Boilers on their facility. Within this model Solarkaz has contractually stipulated intent of transferring the operation to the organization as a captive center. The instalment period would be 3 Years.
Rental
In this model, Solarkaz offers a mutual contract with the client on the consumption/utilization/selling of steam. Initial investment cost could be mitigated through this model.
Biomass Fuel Supply Model:
This model is intended to supply Biomass boiler fuel only to any biomass boiler of the client.
Solarkaz is a certified boiler manufacturer having various local and international licenses for the quality manufacturing of boilers, pressure vessels, and Heat Exchangers. Local boilers can be dangerous for both business and human safety because of low quality and refurbished material usage. You can have several benefits by preferring Solarkaz biomass boilers which are mentioned above.  
As the world is moving towards low carbon emission solutions, Solarkaz 's advanced technology will help you in achieving the desired goal. Solarkaz offers multiple solutions and packages to satisfy any type of customer need with our new biomass boilers that are designed to operate at peak performance while providing high levels of efficiency.
When it comes to biomass boilers, Solarkaz stands out as a preferred choice. Discover everything you need to know about biomass boilers, from their working principles to the benefits they offer. Explore why Solarkaz is the trusted provider for reliable and efficient biomass boiler solutions.